Guide to Thrift Stores in Paris + Amsterdam
Finds + Shopping in Europe
Hi all!
I'm Isabella, Andreina's little sister and editor for Collecting Moments. As you've probably seen in her photo diaries and IG posts, we recently traveled to Europe for our first-ever sisters' trip and had an awesome time!
When planning our itineraries for our days in Paris and Amsterdam, Andre and I both agreed we wanted to hit up as many thrift/vintage/consignment stores as possible. I'm a big believer in sustainable fashion and love thrifting for multiple reasons:
It's cheaper than shopping retail!

It can be more difficult to score good finds, but when you do, they're usually cooler than anything you'd find at the mall

It's way better for the environment!
So I decided to compile a little list of the best spots we encountered on our trip, along with what we bought at each store:
This store has a couple of locations around Paris, but we visited the one on the famous Rue de Rivoli when we explored Le Marais. It's more like a thrift store than a vintage boutique, meaning you need to put in more time and elbow grease to look through the racks and racks of clothing, but it's definitely worth the effort (especially since the less curated a store is, the less expensive it tends to be). In true Parisian style, the space inside the store was a little tight both upstairs and downstairs, but what's good thrifting if you're not struggling to squeeze past cool French women trying on black leather pants?
What we scored: I didn't find anything that I particularly wanted to buy, but Andreina got a colorblocked, retro windbreaker for only €15
Pro Tip: Dig through the €1 bin at the front! I didn't take my time here as much as I should've, and regretted it when I saw another girl fish out a pair of cutoff yellow overalls.
By Flowers €€
I already loved Montmartre for its cobblestone streets and Amélie aesthetics, but I fell deeper in love with the neighborhood once I realized it's also a small haven of cool vintage shops. By Flowers is small but filled to the brim with one-of-a-kind pieces. You can tell everything was hand-selected and organized with a lot of care, so some prices were on the higher end (e.g. €40 for a pair of cargo overalls), but there were still more affordable options as well. This is definitely a good place to go if you're down to splurge on yourself a little, or looking for an especially eclectic item (hello, white, pink and blue cowboy boots!)
What we scored: My heart broke when I couldn't manage to squeeze into a pair of vintage red culottes that probably once belonged to a 12-year-old boy, but I was super happy to find a couple of beautiful silk scarves for €5 a piece. Andreina went for a 70s looking pashmina, too!
Pro-tip: The €5 bin at the front of the store! Suspenders, handbags and scarves galore <3
Bigger store, better prices! Also in Montmartre, Chinemachine has a cool top-level with clothes and shoes and an even cooler basement where you're basically shopping for velvet hotpants in a catacombs-esque cavern! They had a small selection of "men's" clothes downstairs but let's be real, gender is a social construct and you should shop for whatever you damn please. They had a good variety and were definitely less pricey than By Flowers.
What we scored: I got a pair of pastel/cream-colored overalls (€20) and a cool graphic t-shirt for my boyfriend (€10)
Pro-tip: Take your time! Chinemachine is a little bigger than the other stores, and it can be easy to overlook a cool top or pair of shoes placed in a corner of the store. Andreina spotted the t-shirt I bought once we had paid and were leaving the store because it was on a mannequin in one of the side windows!
My favorite! This store has locations all over Amsterdam, but we stumbled upon the one in De Pijp when we were on our way to grab lunch at Dim Sum Now. We then proceeded to spend two hours inside the store looking at all of the amazing things they have. Racks on racks on racks- I'm talking piles of vintage Levis next to entire walls lined with sequin jackets and floral jumpers. And the shoe selection! If it wasn't for the weight limit on my suitcase back to Atlanta, I think I would've seriously bought every pair of boots and mules in the store. The store has multiple levels plus a little balcony with chairs overlooking a cute garden! Everything was organized and arranged really well, prices were reasonable (especially for the quality of selection), and the super friendly cashier gifted us tote bags with the store's name when we spent over €80 between the two of us.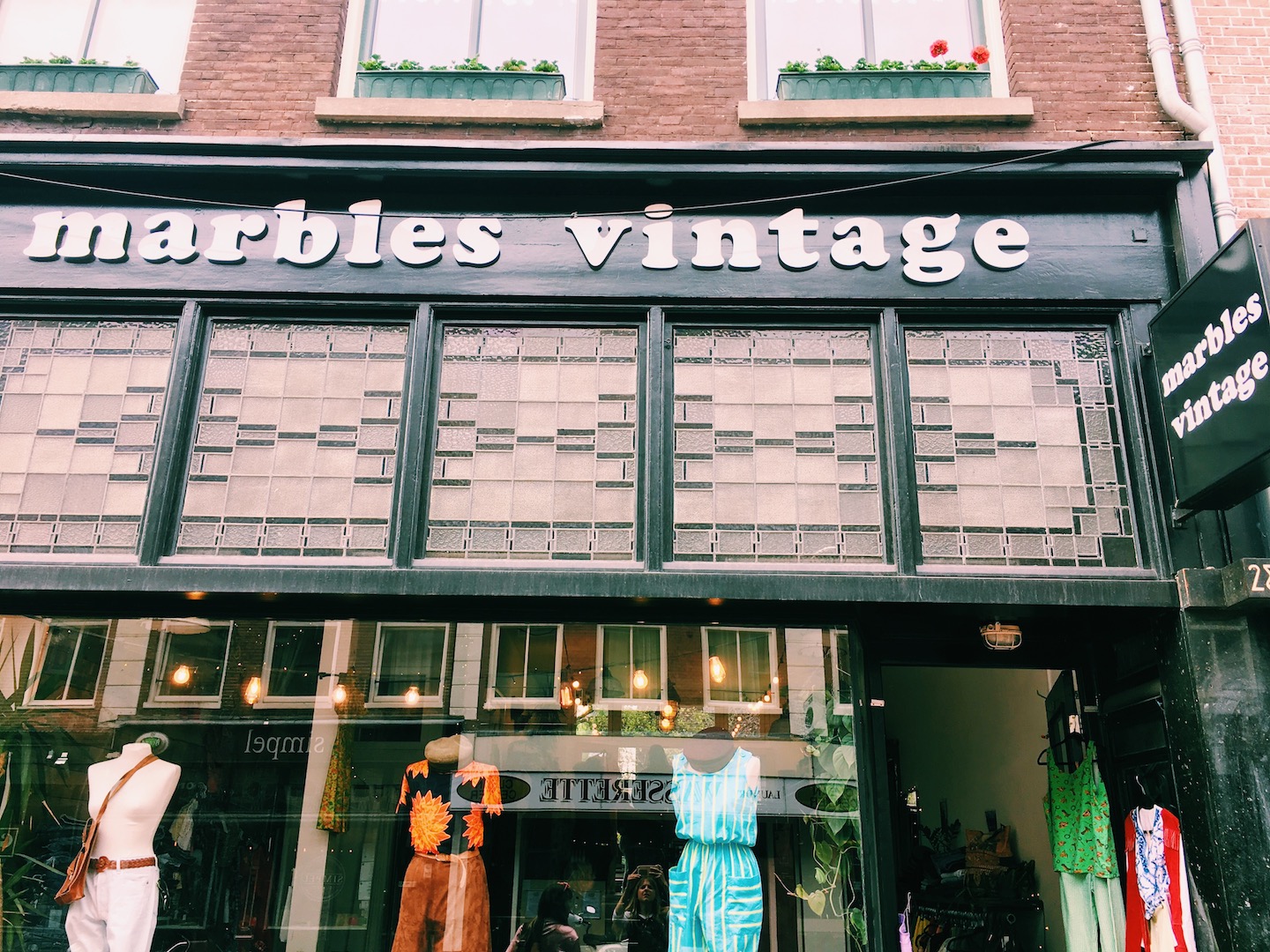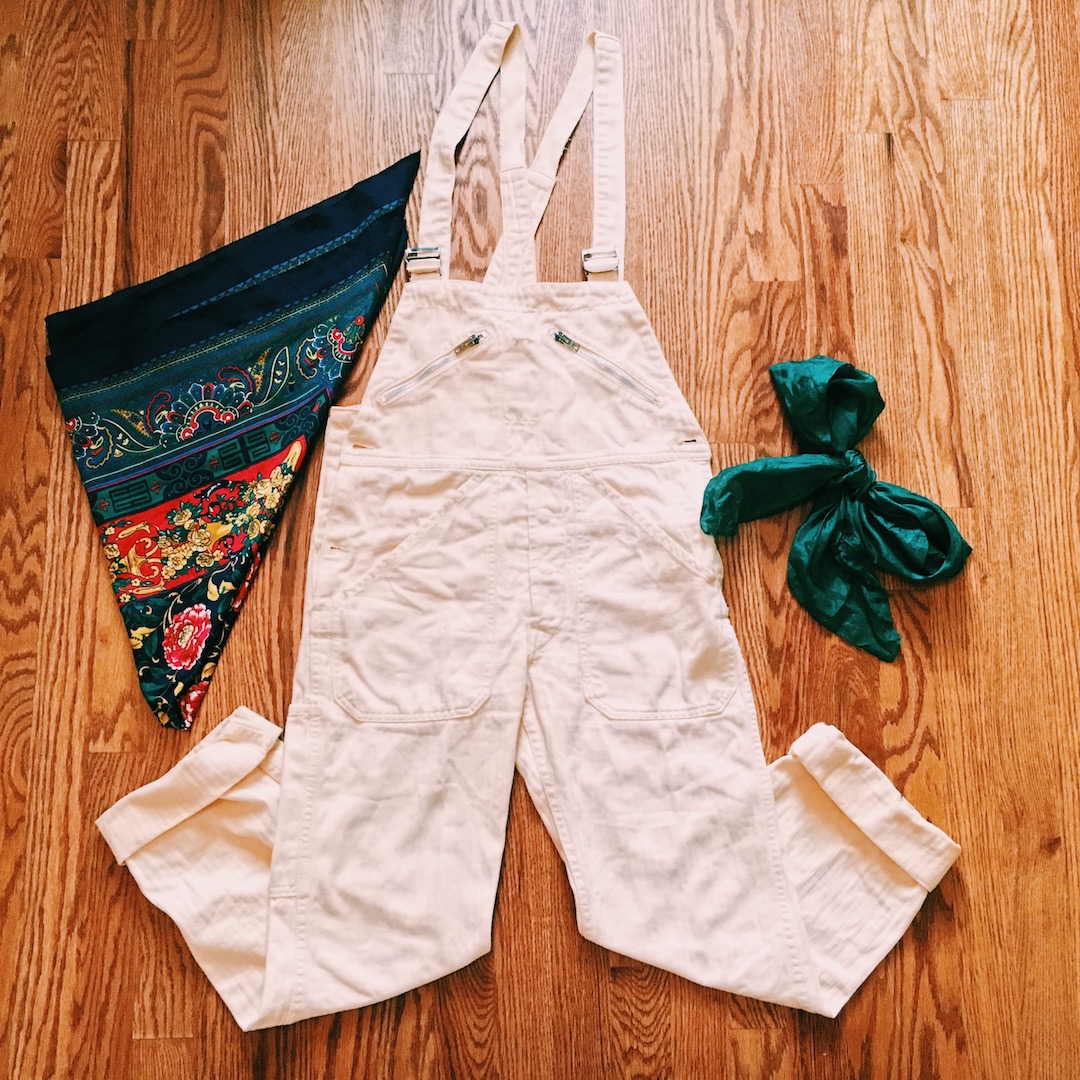 What we scored: I bought a pair of grey, high-waisted pleated chinos (€19) and a pair of irresistible olive-toned suede and wooden clogs (€19). Andre took home a groovy green-striped sweater with a collar (€15 ), a super unique handbag (€15 ) and a pair of classic Levis (€ 25.)
Pro-tip: If you see something you like, hold on to it! I passed up on a purple miniskirt I really loved when we first came in, and then later when the store filled up I came back to see someone else had taken it. RIP purple skirt.
As Andreina mentioned in an earlier post, this tiny store in Le Marais has beautiful vintage jewelry but is also pretty pricey. They offer a small selection of clothing and knick knacks as well. Definitely good to look around in for fun or if you're looking to spend extra (and I mean e-x-t-r-a) on a special accessory, but not exactly affordable. We didn't buy anything here.
There were other shops in Amsterdam that looked amazing, but we lacked the time to go in since we were only there for the weekend. What are other thrift/vintage/consignment shops we should check out next time we're in town? Let us know below!
Cheers,
Isabella