Where to eat out in Paris?
Now, I don't know about you, but when I think of Paris, I instantly picture delicious food & wine. Food is definitely an essential part of the city, and one of my favorite pastimes is to simply eat my way around the different quartiers and enjoy the diversity in style, flavor and vibes the City of Lights has to offer! C'est magnifique!
On my latest visit, I made sure not to only indulge in all the endless rich food Paris offers, but also find a balance of healthy eats around town, and I have to say - Paris you did good! I was pleasantly surprised by the more and more options Paris is starting to have in their healthy food scene! (As if we needed more reasons to love Paris!) So without further ado, I give you:
5 Favorite Restaurants in Paris (from recent trip!)
LE SAINT-REGIS (Ile de Saint-Louis) -- This quaint little bistro on a quiet corner on the Ile Saint-Louis is everything you picture when you think of the old Parisian charm. The waiters are all dressed in a black and white attire ready to serve you, there's an excellent atmosphere with the cool vintage decor and of course, delicious food. Another great fact? It's only steps away from Notre Dame and a great escape from all the touristy brasseries. After a long day of walking, this place does indeed feel like a true gem with its prime location + amazing food; It's a great place for grabbing a drink or a full meal. Isabella and I kept it simple as we visited for a late night supper, and ordered a croque monsieur and chicken cesar salad. Both were so rich and flavorful I honestly don't even know how they made something so simple and classic, so delicious and different. Don't miss out!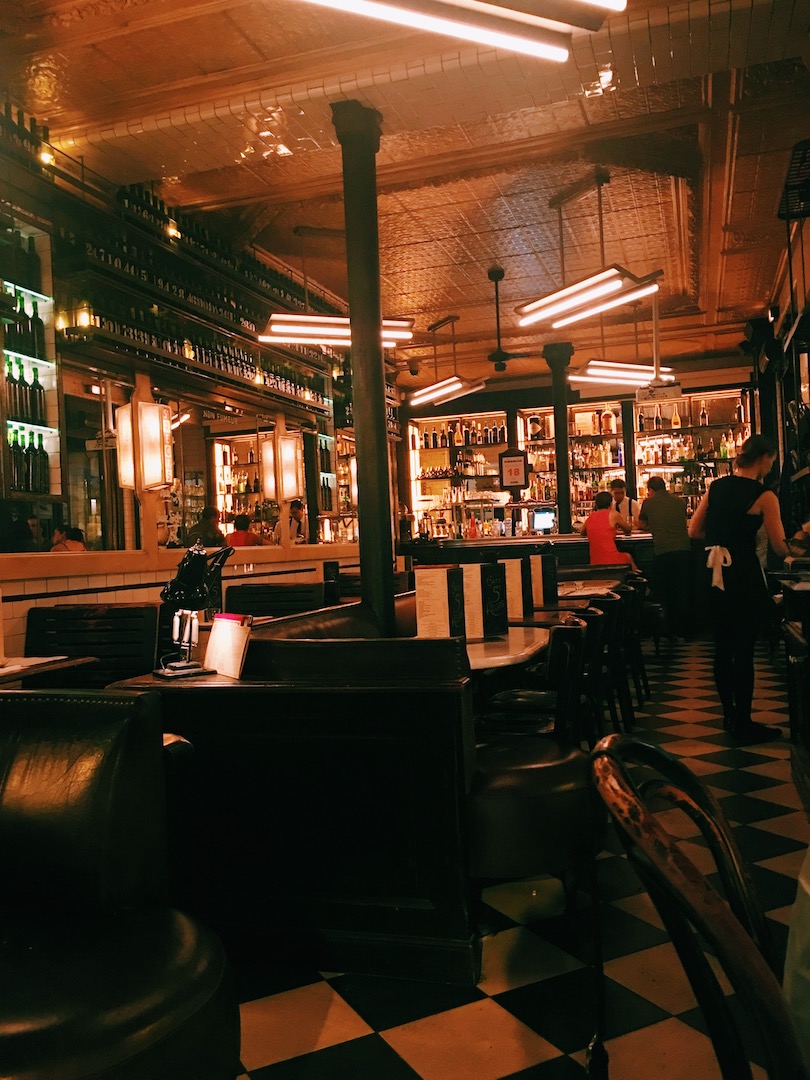 DAROCO (2nd arrondissement) -- Everywhere I ate (or at least mentioned on this post) in Paris was delicious, but this trendy Italian restaurant located steps away from Jardin du Palais Royal was MY FAVORITE. This place isn't the typical small tables and intimate setting you get at the majority of restaurants in Paris. Instead, think large open floor plan with high ceilings and a modern, minimalistic yet rustic décor. The crowd was good looking, the atmosphere was fun and the menu was simple yet filled with a great variety of gourmet pastas and pizzas at incredible prices. Isa and I ordered the pasta of the day which was black ink gnocchis with clams, thyme, ginger, crispy caviar in a light wine sauce #bombdotcom + a margherita pizza! #delish. We accompanied all of our deliciousness with two beers and ended with a shared panna cotta. I honestly encourage everyone to give this place a try!
MARLON (7th arrondissement) -- This Californian-style restaurant is a great pick for a healthy fare, and it's a hip spot with an amazing location on Rue Cler between the Eiffel Tower and Esplanade des Invalides. Isabella and I happened to be in Paris during a very strong heatwave #VERYHOT and after spending the day walking, walking plus doing some more walking, we found this gem when we made our way back into town and enjoyed a delicious, healthy and refreshing late lunch. We started off with two cold young Thai coconuts to hydrate ourselves, followed by a starter of tuna poke and then some smoked salmon tacos and a grain bowl. The service was excellent and the food nourished and replenished our bodies in the best way possible! Shoutout to our sever - a girl killing it and still looking so Parisienne in the 100 °F afternoon!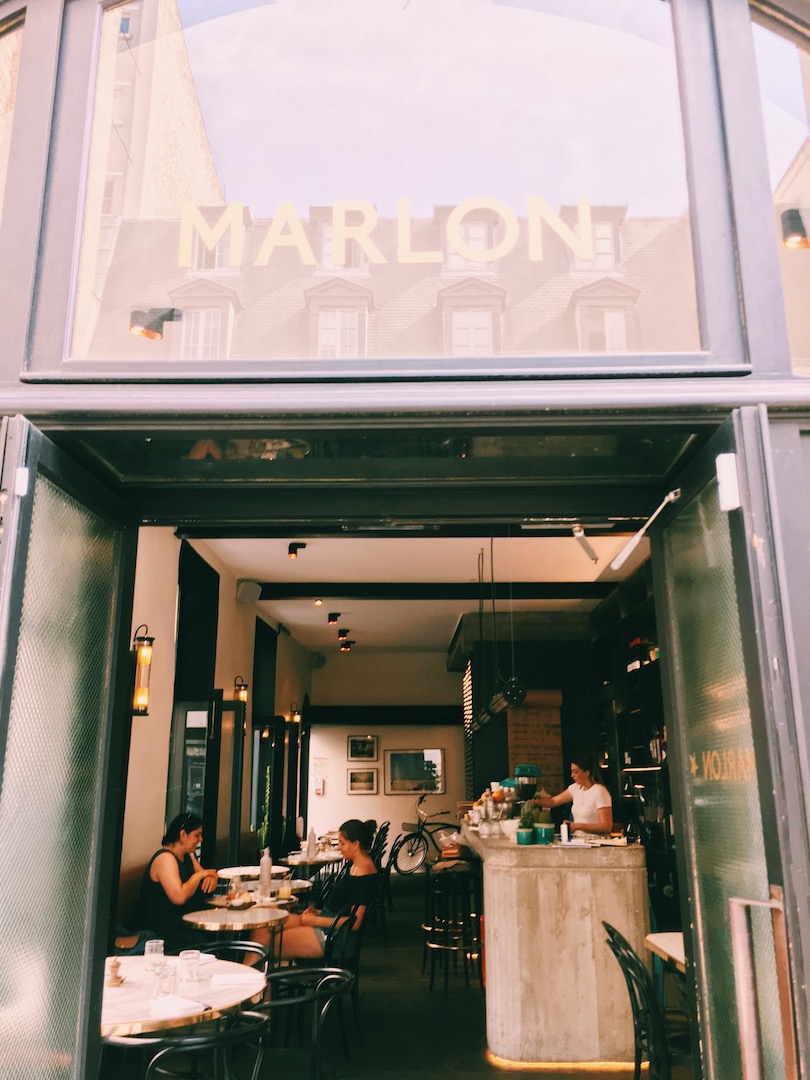 MARCHES DES ENFANTS ROUGES (3rd arrondissement) -- The oldest covered market in Paris (dating back to 1628!) I always enjoy visiting food markets in Europe and I was not disappointed by this one! It's small but worth a visit if you're in the Marais neighborhood. There are plenty of options when it comes to food in this market from Lebanese to French, Italian, Jamaican and even Japanese. Once we got there, we were hoping to try the Crepe and Sandwich stall where an older gentleman was having a blast preparing amazing sandwiches- dancing to the music and treating each sandwich as masterpieces- but the line was taking up to 45mins to get the 9 euro sandwich A-N-D we were hungry! Lol so, instead we ate italian! It was delicious and at very reasonable prices + we got to sit down (since not all stands at the market offer seating). #yasss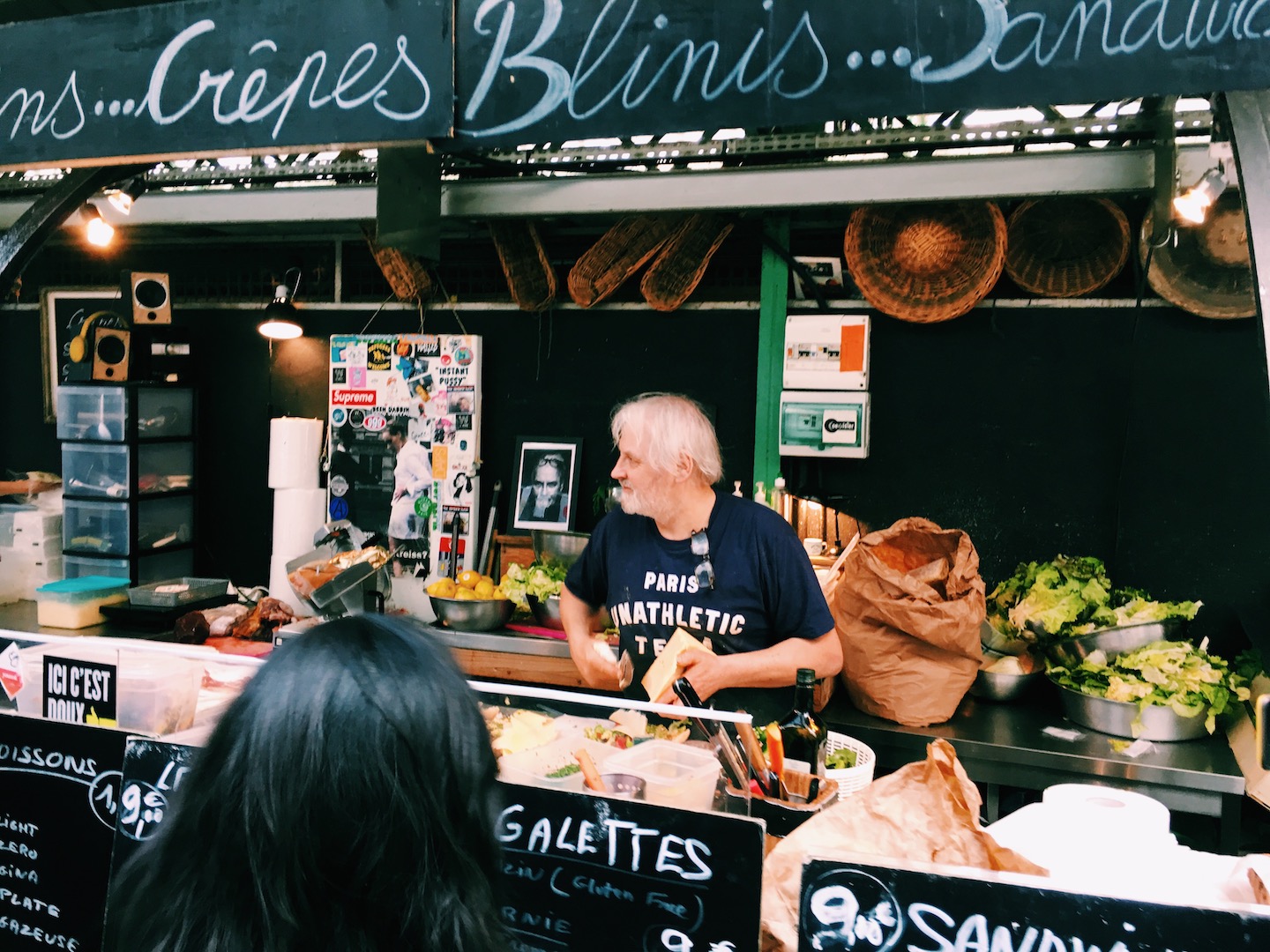 SOUL KITCHEN (Montmartre) -- Another G-R-E-A-T find and Isa's favorite! This small little coffee shop/restaurant in Montmartre offers great vegetarian options at affordable prices. We cooled off after a morning of thrift shopping with fresh fruit lemonades- Isabella chose passion fruit and I picked strawberry- and then enjoyed one of the three lunch options for the day: a delicious vegetable mille-feuille topped with creme fraiche and a zesty side salad. As can be expected when in Paris, the restaurant provided plenty of yummy, fresh bread to go with our food, and we finished off our meal with two desserts- a fromage blanc with strawberry and peach jam and a white chocolate mousse with fresh fruit. We loved them both!
P.S - Two restaurant chains always worth going to:
So, let's be honest, sometimes you just want to EAT!- and not have to think about whether or not the restaurant you found is worth it or how many stars it has on yelp. There are two restaurant chains (besides McDonalds - because HELLO? Who doesn't eat McDonalds in Europe and then think how much better it is than the ones back in the U.S.) in Paris that never fail for me:
Léon de Bruxelles - if Moules-Frites are your jam! This restaurant chain specializes in Moules-Frites and has endless bases on which you can order your mussels in. I like it because it's quick, there are various locations throughout Paris and the mussels and fries taste great! I have been a couple of times and still think they hit the spot when it comes to craving a huge pot of mussels.
Le Pain Quotidien - craving some almond milk/soy lattes + brunch. If you haven't been to Paris then maybe it's hard to relate to this one, but I find myself craving coffee quite often, but have the problem that Paris has not quite caught up with all the alternatives you can add to your coffee (i.e almond milk, soy milk, even matcha!) so I get so excited each time I stumble upon a Le Pain Quotidien location in Paris. I know I can go in, order my Americanized coffee and also yummy pastries and hit the road again. They also offer breakfast/brunch items ALL-Day and have healthy options for any meal.
Hope you get to try one or (even better) all of these suggestions! They were all so unique, delicious and great picks when eating out in Paris. I truly hope you enjoy them as much as we did!
Xoxo- Andreina